Web Order Confirmation Status Display
To view the current status of a customer confirmation number
Log to POS.26.26 "Web Order Status"
Enter in the confirmation number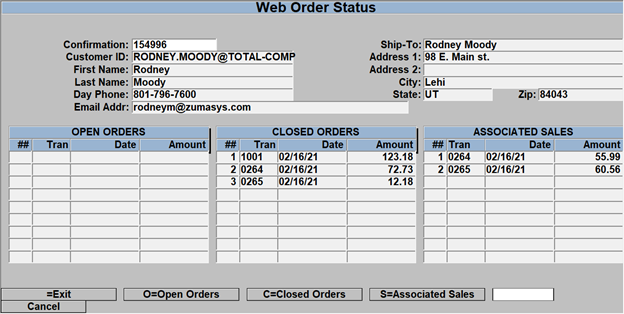 You will see 3 columns, 'Open Order', 'Closed Order', 'Associated Sales'

Open Orders will display the open order, select O=Open Orders and then the line number with the confirmation # to see detailed information about the order.
Closed Orders will display if the order has been completed or if it has been deleted. If you select that option, then it will display the information from the original order.

Associated Sales will list all of the 'Sales' that are associated to the confirmation number, so if the customer ordered 5 items and each item was sold on a different register transaction then there would be 5 associated sales. Select the S=Associated Sales and then the line number to view detailed information about that transactions.